A 15th century coaching inn, where the past
frequently crosses over into the present.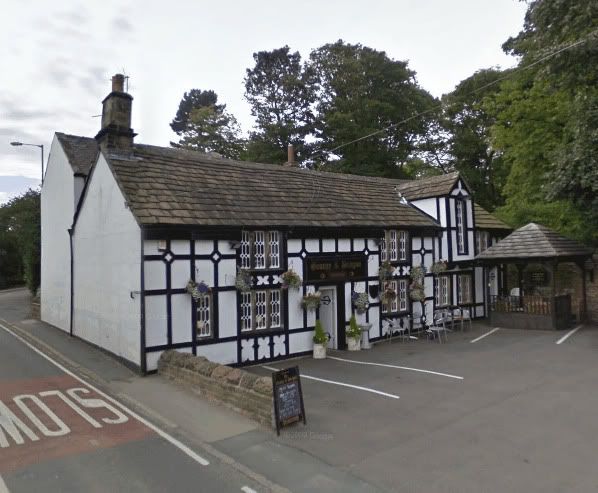 Flockton, Flochetone as it was then known, is mentioned in the Domesday Book.
The George & Dragon Inn was built in 1485
Report by Huddersfield Examiner
Places like Flockton, criss-crossed by ley lines - ancient channels of energy situated in the ground - are said to be particularly prone to to hauntings and in Flockton's case the that seems to be backed up by the evidence.
Ask the local policeman puzzled by the number of "strangers" who passed him on his night beat and then "disappeared" or the number of incidents at the George & Dragon pub
Perhaps the strangest was when the long-serving landlord and landlady put the lounge fire on at lunchtime to get the room warm for their afternoon break.
But when they say down the lounge door opened and closed until the room became icy cold. Then after a further while the door opened and closed again and the icy feeling left.
The time, about 3.30pm and curiously that time and not midnight, seems to be the "witching hour".
A fantastic Tudor building. I've been in this Inn a couple of times for a drink, adorning the walls were newspaper cuttings 'Paranormal investigators seek out pub ghost at the George and Dragon Inn'
Boniface's big it up! It was a draft!
(It should be noted that: A Boniface is a literary name from the 1800's for a jovial landlord of a country tavern, usually one who likes to exploit crowds for profit pertaining that his or her establishment has a ghost or spirit.)
Someone who was in the carpark saw a man dressed in eighteenth century clothing, apparently also witnessed in the pubs upstairs landing and in the empty room just off the bar. As I sat there I wished something to appear, nothing did! Someone reported two people walking past the open door of the pub and was so scared that he insisted that the landlord would walk him to the car. Probably the low life I spotted urinating up the side of the pub wall!!