Illustration by Jules
This was my first visit to Hermitage Castle, this is my second visit
(here)
Locality:

Saughtree, The Scottish Borders TD9 0LU
Built: 1240 - 14th century
Location: Newcastleton, roxburghshire, Scotland.
ghosts - Sir Alex Ramsey, William of solis, mary queen of scots, border reivers, an unknown entity.
Hermitage is surrounded in legends and folklore.
We eventually arrived at Hermitage Castle, set on the bleak isolated wind-swept moorland. The weather was inclement but that suited the bleak 13th century fortress, it made it look all the more imposing. We walked over the little bridge over the river Hermitage which runs alongside the castle; these waters where notorious for its drowning pools, which our dog found out to his horror, the rocks were as slippery as ice and he fell in and went under.
A stroke of luck! Admission was free in April. We walked the short distance to the castle; it was a dark and creepy place. The weather beaten stone had a strange reddish orange hue on one side, maybe this is the blood of the Reivers seeping through the walls.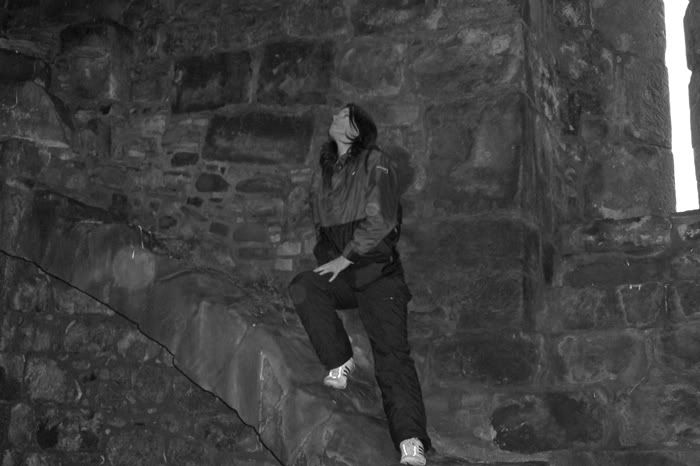 I stood looking up at this mighty pile wondering whether or not the former owner Lord Soulis's spirit may linger; if not he but his victims, their screams would certainly be heard if you wandered around long enough. If you visit this lonely castle make sure you hold on to the handrails as you ascend the higher parts of the building, you may receive a push by a grim shade.
Maybe Mary Queen of Scots pays a nightly visit here, she was said to have frequented Hermitage Castle.
Border Reivers
Where long by spells mysterious bound,
They pace their round with lifeless smile.
And shake with restless foot the guilty pile,
Till sink the moldering towers beneath the burdened ground."
"On a circle of stones they placed the pot,
On a circle of stones but barely nine;
They heated it red and fiery hot,
And the burnished brass did glimmer and shine.
They rolled him up in a sheet of lead
A sheet of lead for a funeral pall;
They plunged him into the cauldron red,
And melted him body, lead, bones, and all."
"And still when seven years are o'er,
Is heard the jarring sound,
When hollow opes the charmed door